OneRecruit's features make e-recruitment fast, simple, and affordable
Set up OneRecruit in minutes
Access OneRecruit from a web browser anywhere
Select from free and affordably priced subscription plans that you can cancel at any time.
Set up OneRecruit in minutes online with no software installation.
Recruit through your customized career and application portals hosted by OneRecruit.
Organize all your recruitment data—applicant profiles, documents, ratings, and user comments—in one place.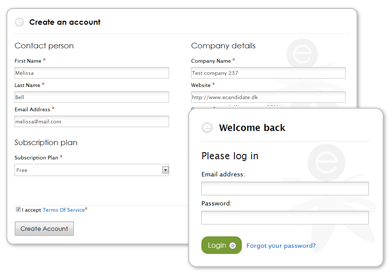 Create customized job announcements in a few, simple steps
Create job openings fast with simple, easy-to-use forms.
Customize your online job announcement for each opening using a versatile text editor.
Create application screening questions candidates answer when they apply.
Post a link on your company web page to your career portal where all your openings are listed.
Post search-engine-optimized links to your applications and career portal where job hunters are searching.
Feature you company name on your application pages.
Send application-received and applicant-rejected emails automatically.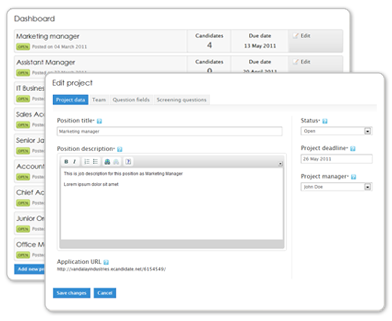 Track and evaluate applicant responses with easy-to-use tools
Rate applicants and view applicant records and documents from a web browser anywhere.
Get an automatic rating of each candidate based on the applicant's weighted answers to your customized screening questions.
Log all team comments and ratings for each applicant automatically.
Sort candidates by screening score, user rating, status, or any of four other variables.
Use OneRecruit's simple analytic tools to track the number of applications received, discover your best application sources, and view conversion rates (Professional and Enterprise subscriptions).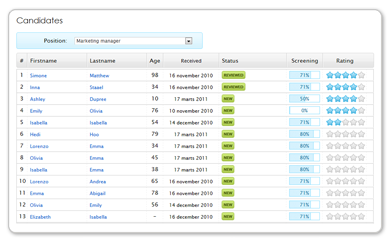 Rely on OneRecruit's safety and security features
Set permissions for users, departments, and other groups (Professional and Enterprise subscriptions).
Rely on secure sockets layer (SSL) online security for user and applicant communications.
Get personalized support by email for all your questions about OneRecruit.